Screenshots. Click an image to see a larger view.
---
THE RICHTER SCALE
Concept for an interactive website for Red Cross with a video teaser in a movie trailer style, followed by a serious game.
The audience is made aware of the human vulnerability in an emergency situation. The website opens with a fullscreen video, after which the user is invited to play the game. Players have to discover and save victims of an earthquake using biodrones, radio controlled insects. Desired results are donations to support the activities of Red Cross, especially regarding help in earthquake afflicted regions. Traffic to this campaign website is to be generated by a viral campaign creating buzz around The Richter Scale as a must-see event.
Roles: Conceptmaker, designer
---
2012/01/21
Concept for an tablet magazine advertorial for Red Cross about eathquakes.
Every day 50 earthquakes are registered by the NEIC and some of them are as devastating as the 2011 incident in Ercis, Turkey. Red Cross helps to protect from disasters like these and assists people in being better prepared for catastrophes. The article is crafted as a eight-page horizontally srollable banner featuring realtime data, video, sound and a framed website. Visitors are encouraged to support the works of Red Cross by making a donation.
Role: Conceptmaker, designer, copywriter

Photography
NOS Jeugdjournaal
AP/Ali Ihsan Ozturk
Reuters/Osman Orasal
Red Cross
The Amsterdam North district is separated from the citycenter by Het IJ, a circumstance which emphasizes its unicity but also introduces questions regarding city development, public transport and architecture. Guided by a trail of geocached QR codes the participants discover monuments, creative workplaces and hangouts. In the central location situated in the North creative incubator section a filmpresentation and forumdiscussion is provided. Interacting with represetatives of citycouncil, architects, filmmakers and others the participants are engaged in the real life issues regarding North.
The event culminates in the NoorderNachtParty. Communication for the event makes use of the MuseumNacht media, an eventwebsite and a Facebookpage. A videoviral-mashup is used to attract visitors to the website. NoorderNachtGezichten is a usergenerated virtual scrapbook that is also used as an evaluation and a pre registration for the next edition of this event, featuring another Amsterdam district.
---
NOORDERNACHTTOUR
Concept for a cultural event targeted on youngsters to increase knowledge and engagement with the Amsterdam city and its cultural life. Developed for Stichting Museumnacht Amsterdam.
This edition of the event focuses on the Amsterdam North district ("North"). North is the largest city district blessed with a rich history. Being the location of shipyards and harbours North is characterized by a gritty, industrial atmosphere that especially attracts creatives.
Role: Conceptmaker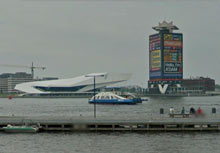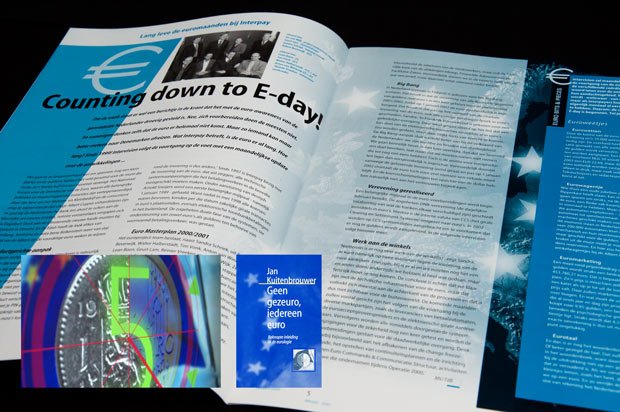 ---
GETTING READY FOR THE EURO
An internal communications project for Interpay.
Executed during the implementation period of the Euro. Comprised seminars, magazines, instruction manuals and presentations. Also included: a humorous publication made with Dutch writer Jan Kuitenbrouwer about the effects on the Dutch language caused bij the new Euro currency.
Roles: Conceptmaker, Manager Internal Communications, Designer.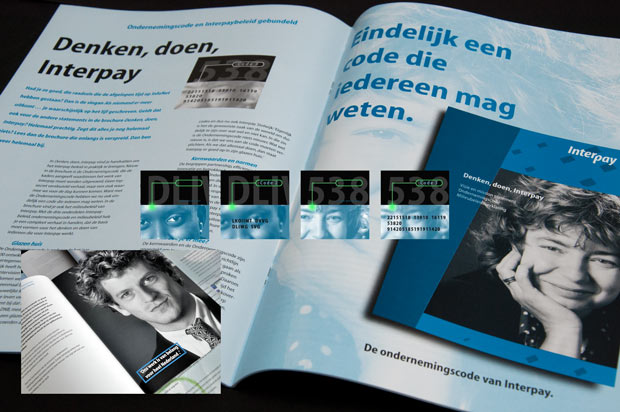 ---
THINK, DO, INTERPAY
Internal branding campaign.
The company's business principles were made public through sessions with the management, a game via the intranet site, magazine articles and a brochure. The Mission Statement brochure 'Think, do, Interpay' is built around quotes and portaits of employees expressing the desired attitude and image.
Roles: Manager Internal Communications, Conceptmaker, Copywriter, Designer.
---
QUALITY AWARENESS
Internal communications campaign.
A campaign for SFB, concerning quality of services. Media include magazine articles, a newspaper-like publication, brochures and magazine advertisements.
Roles: Conceptmaker, Designer, Project Manager.